MDA Director of Blood Services Explains How Vital New Blood Centre is in Interview with i24 News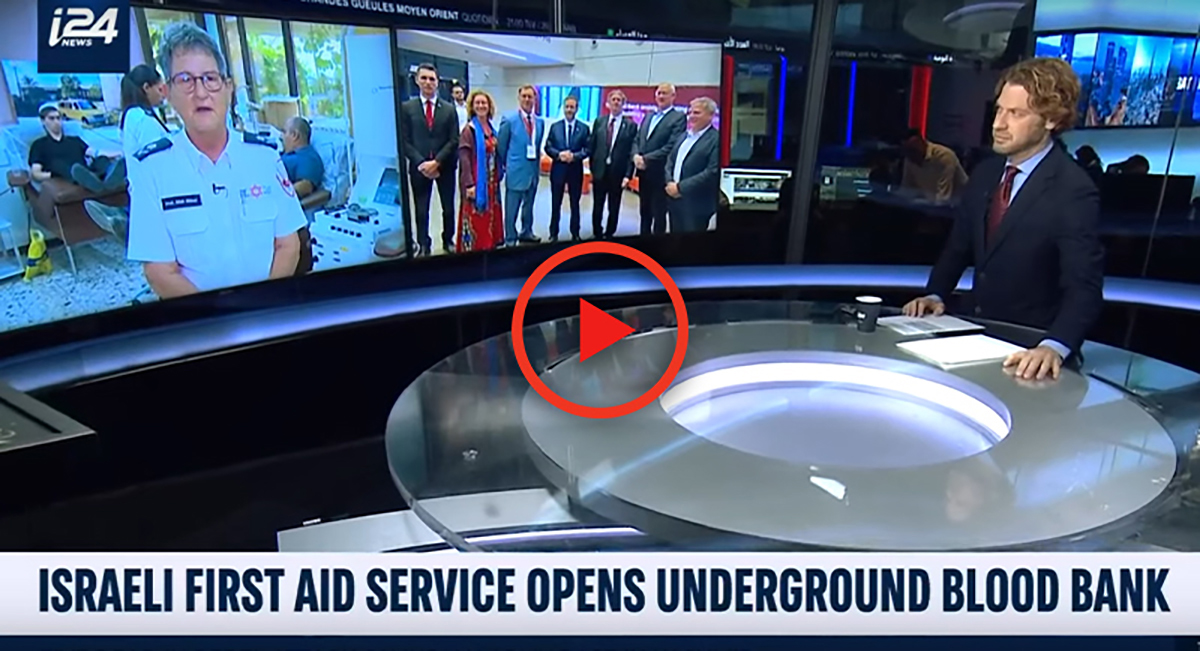 MDA's Director of National Blood Services, Professor Eilat Shinar, gave an important interview on i24 news following the landmark inauguration of MDA's new National Blood Centre in May.
The new centre doubles the storage capacity for Israel's blood supply and ensures MDA can respond to the needs of a fast-growing population for decades to come.
FEATURE ARTICLE
Saving Lives Under Fire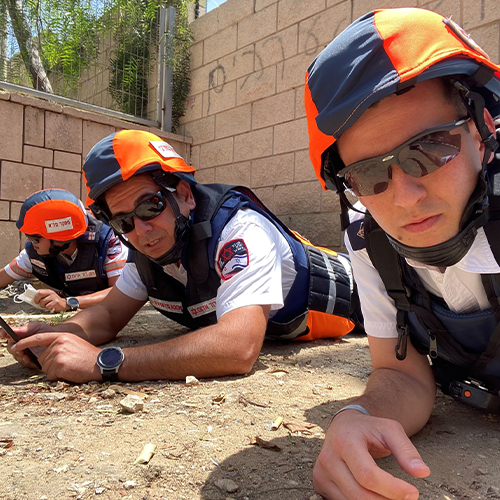 In late July, Israelis in southern cities were rushing to bomb shelters as rockets were launched by terrorist groups from the Gaza strip. During this time, a 41-year-old man was stabbed in a terrorist attack aboard a bus near Ramot.
Then, on August 7, a conflict broke out as the IDF was attempting to neutralize threats from Islamic Jihad in Gaza. Over the course of the three-day conflict, MDA teams were on high alert and treated 47 patients, including 3 injured by shrapnel, 31 injured while running to secure locations, and 13 with stress symptoms, including a 74-year-old female who was sedated and conveyed to Asuta Hospital in Ashdod.
MDA treated several more patients with minor injuries who were injured making their way to secure rooms and did not require to be conveyed to hospital, and several patients with stress symptoms who were treated on scene.
During the conflict, one Israeli refused to adhere to the red alert sirens as hundreds of rockets were being launched into his hometown of Ashkelon. Baby Boy Greenberg was ready to come into this world, and nothing was going to stop him. With the help of MDA teams who arrived in record time, the baby boy was delivered into safe and loving arms in a time of conflict.
Terror attacks continued to escalate in Israel, even after a ceasefire was reached. MDA treated and evacuated seven people following a terror attack in the Old City of Jerusalem on August 13. Two of them are in serious condition, including a pregnant woman who gave birth at the hospital.
MDA Senior EMT Nehemia Katz and MDA Paramedic David Trachtenberg recall: "We were on scene very quickly. On Ma'ale Hashalom Street, we saw a passenger-bus standing in the middle of the road. Bystanders called us to treat two males who were on the bus with gunshot wounds. They were fully conscious and walking with wounds to the upper body. We provided them with lifesaving treatment and transported them to hospital. From there, we went to the King David's Tomb parking area and found four males, one aged 50 and three aged 30, all fully conscious with gunshot wounds. A few moments later, the MDA ATV brought us another victim, a woman in her 30s with gunshot wounds. We provided lifesaving treatment to the victims and conveyed them urgently to hospital, with two in serious condition and five in mild to moderate condition."
COMMUNITY & COLLABORATION
Canadian Delegation Travels to Israel for Historic Ceremony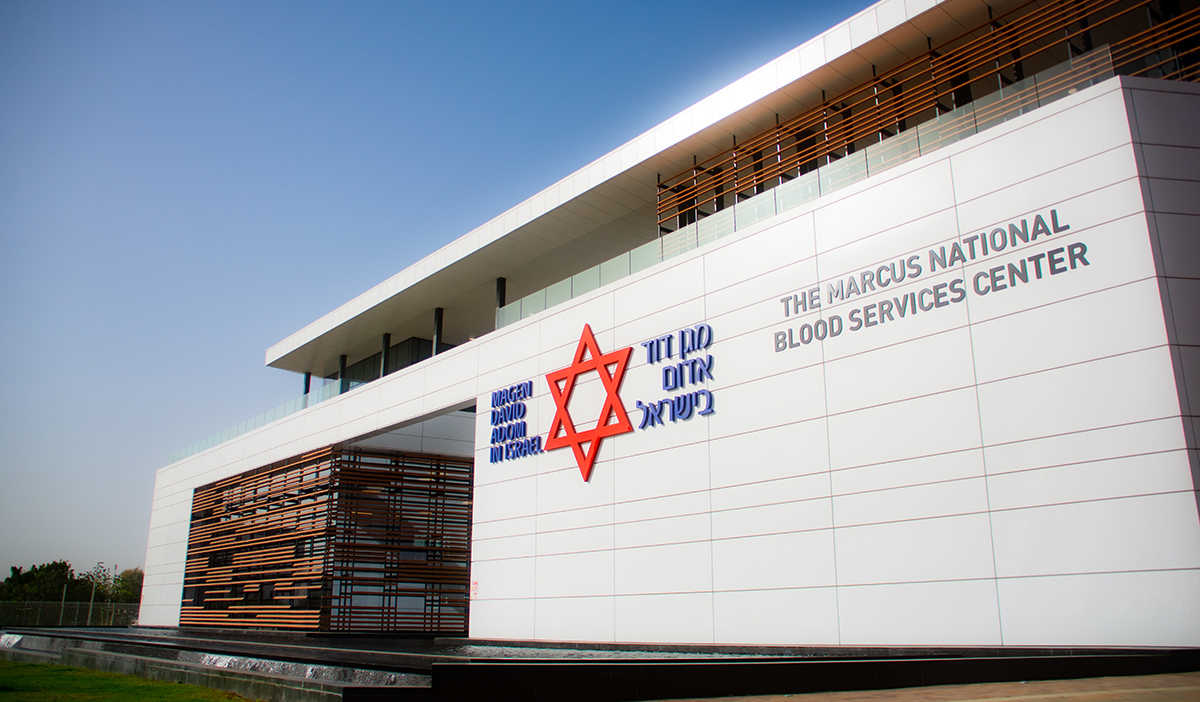 MDA's current blood centre was built in the 1980s when the geo-political reality was quite different. Furthermore, the technology available at the time was far behind the advancements made in recent years.
The centre has a maximum storage capacity of 250,000 units, and this is one of the major factors that pushed Magen David Adom and the State of Israel to pave the way for the construction of a new state-of-the-art national blood centre with double the storage capacity to accommodate Israel's growing population and underground protection against enemy attacks and natural disasters.
On May 2nd, a long-awaited inauguration was held for MDA's new Marcus National Blood Services Centre. World leaders, politicians, MDA executives and MDA friend societies were all present to witness the unveiling of this one-of-a-kind facility that will safeguard the lifeblood of Israel.
CMDA sent a delegation of lay-leaders and professionals to represent Canadian Friends of MDA during the ceremony. The delegation was also there to take part in IMDAC, MDA's annual friend societies conference. During IMDAC, leaders of MDA friend societies from all four corners of the globe are able to build relationships, share ideas, and develop stronger fundraising initiatives that ultimately help save lives.
MDA's new National Blood Centre is the first of its kind in the world. This facility will store more than 500,000 units of blood, supplying all hospitals in the country for all types of procedures and emergencies. This centre will benefit the people of Israel for decades to come.
TECHNOLOGY & INNOVATION
LUCAS – New CPR Device Opens New Lifesaving Opportunities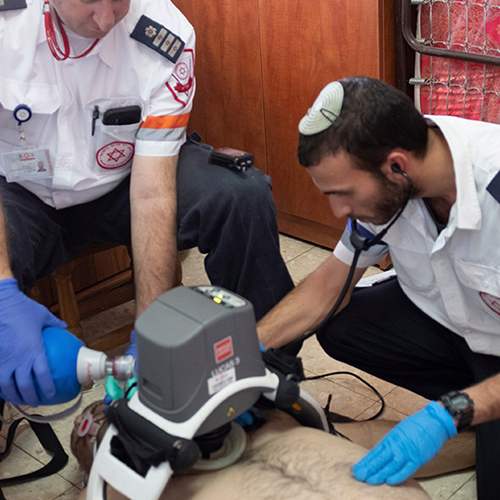 Magen David Adom (MDA), strives to provide the most professional and efficient emergency medical care to its patients. In order to be able to do this, the organization and its teams make use of the most advanced equipment available. The equipment provides the ability to treat a wide spectrum of medical injuries and severe conditions.
To save lives in the event of a sudden cardiac arrest and avoid neurological damage, a steady supply of oxygen to the heart and brain is primordial. Life-sustaining circulation can be created through effective and uninterrupted chest compressions, but performing manual chest compressions of high quality is both difficult and tiring or impossible in certain situations. The quality varies depending on who provides CPR and deteriorates quickly after only one to two minutes.
The LUCAS – Automatic Chest Compression Machine standardizes the quality of chest compressions. The System is a safe and efficient tool that standardizes chest compressions in accordance with the latest scientific guidelines. It provides the same quality for all patients and over time, independent of transport conditions, rescuer fatigue, or variability in the experience level of the caregiver. By doing this, it frees up rescuers to focus on other life-saving tasks and opens new rescue opportunities.
The LUCAS device is easy to carry and handle, and can be applied to the patient with interruptions of manual compressions of less than 20 seconds. The system is electrically powered; the life-saving medical device offers the most compact, lightweight and portable solution to maintain circulation in cardiac arrest patients.