Feature Article
MDA Teams Were Mobilized Every 24 Seconds in 2022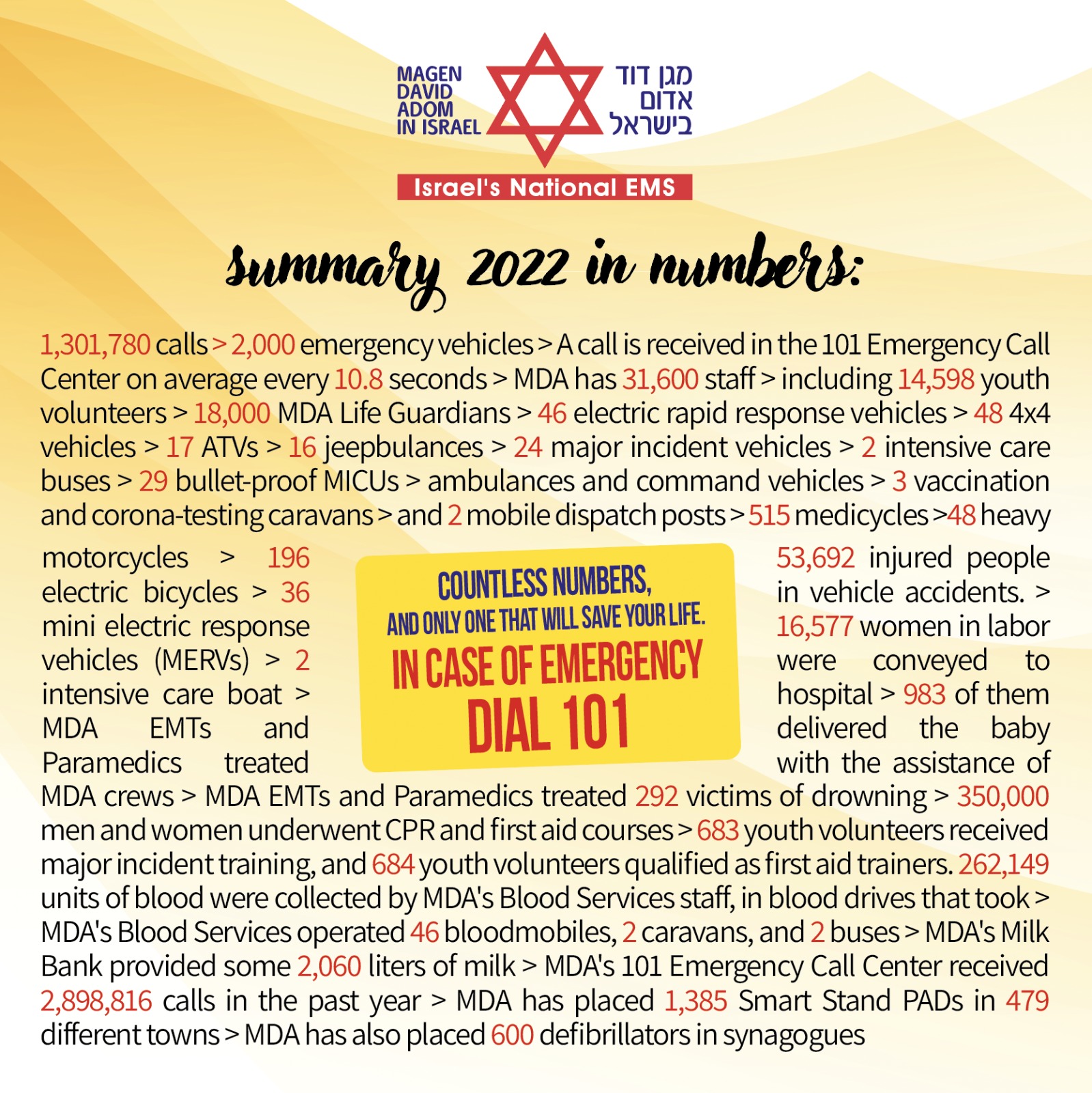 MDA celebrated 92 years of activity in 2022. During this year, MDA's 101 Call Centre received 2,898,816 emergency calls. MDA EMTs and paramedics were sent on 1,301,780 calls aboard 2,000 emergency vehicles, including Mobile Intensive Care Units (MICUs), ambulances, and Medi-Cycles across the country. On average, a call is received in the 101 Emergency Call Center every 10.8 seconds and the average phone response time is just one second.
MDA boasts a force of 31,600, largely comprised of volunteers. Less than 2,500 are paid staff members while the rest are volunteer first-responders, national service volunteers, and this includes 14,598 youth volunteers. There are also 18,000 MDA Life-Guardians; medical professionals who have joined an MDA network of civilian first response. MDA volunteers dedicated over 4.5 million hours of volunteering. The oldest volunteer is a 93-year-old Jerusalem resident, the oldest medi-cycle rider is an 80-year-old from Tiberius, and the youngest volunteer is 14.
Magen David Adom operates 192 stations and dispatch posts across the country. 350,000 men and women underwent CPR and first aid courses. The organization operates 2 helicopters that are equipped with advanced intensive care equipment, and these treated and conveyed 294 sick and injured patients to hospitals across Israel. MDA established 204 new Smart Stand Public Access Defibrillators (PADs) in 38 towns across Israel. Since the start of the PAD project, MDA has placed 1,385 Smart Stand PADs in 479 different towns. MDA has also placed 600 defibrillators in synagogues in Jerusalem and other cities.
If we compare MDA's activities in the Galilee in the summer of 2022 with the new boat to those in 2021 with the previous boat, the results are astonishing. In just 70 days of activity in 2022, MDA responded to 126 emergency calls with the new boat. In 2021, they were only able to respond to half of those calls while being active for eighteen more days. With the new boat, they were able to reach all areas of the Galilee, significantly faster than before, and even during times when the previous boat was incapable of operating.
GIVING BACK
First on the Scene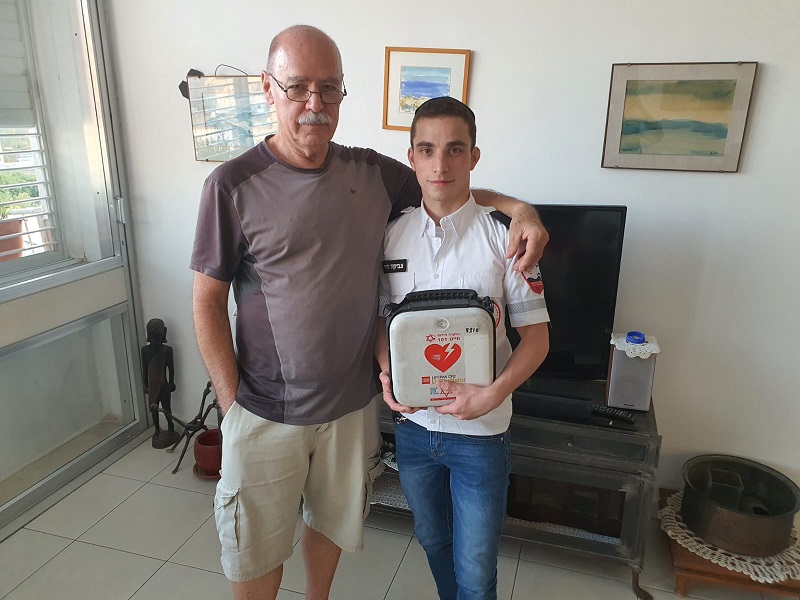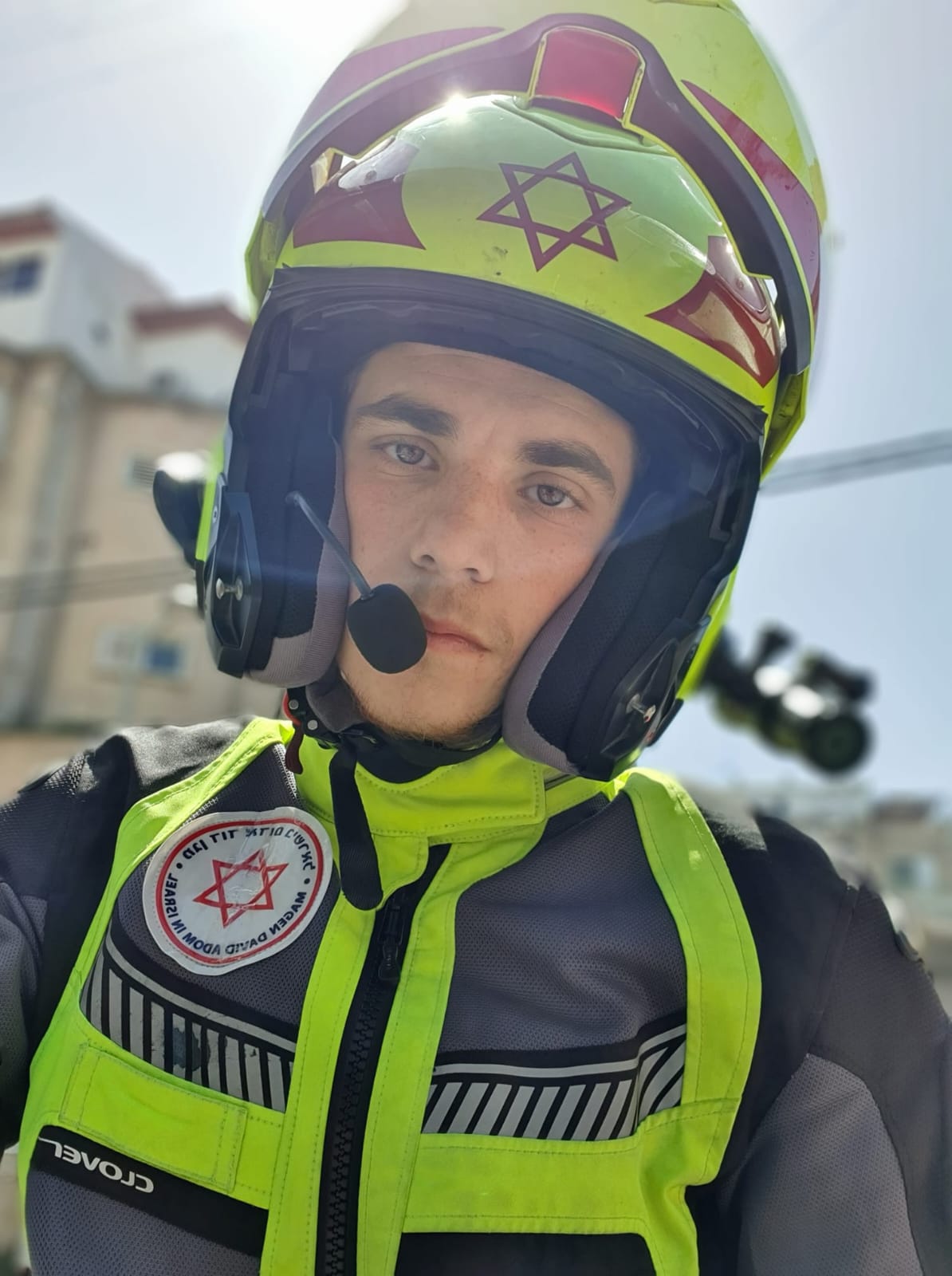 Zvika Lerer is an EMT working out of MDA's National Call Centre. Zvika is also part of MDA's Emergency Medi-Cycle Unit, responding to all sorts of medical emergencies. He has helped bring new life into the world, responded to vehicle accidents, and has already performed several successful resuscitations when arriving first on the scene with his Medi-Cycle.
Last summer, Tzvika not only got to bring a man back to life and return him to his family; he was also lucky enough to reunite with him after the incident.
"This is rare in the world of emergency medicine. Last summer, we received an emergency call for a man who had collapsed at home after suffering a cardiac arrest. An intensive care unit (MICU) was immediately dispatched along with first responders."
Zvika received the call and was the first to respond. Within a few minutes, he arrived at the scene and began advanced resuscitation operations, which included administering electric shocks with a mobile defibrillator unit. He continued CPR until the man's heart started beating again.
The MICU team continued the treatment and conveyed Guri to Sheba Tel Hashomer Hospital where he continued his recovery. Once he recovered, he was able to return home. A few weeks later, Guri met the EMT who saved his life.
"It's very exciting to return to Guri's house. This time I came without a siren and not running, in order to meet and hug him. Seeing Guri standing on his feet next to his family and smiling gives us, the MDA EMTs and paramedics, the strength and fuel to continue fighting for the next patient's life."
COMMUNITY & COLLABORATION
Side by Side with Heroes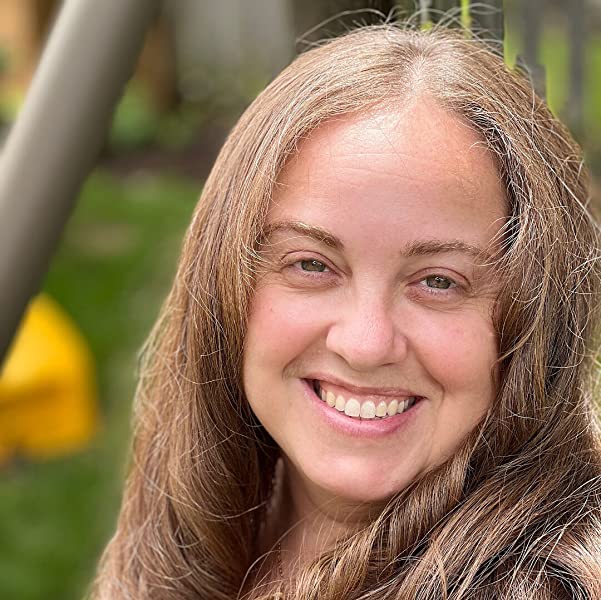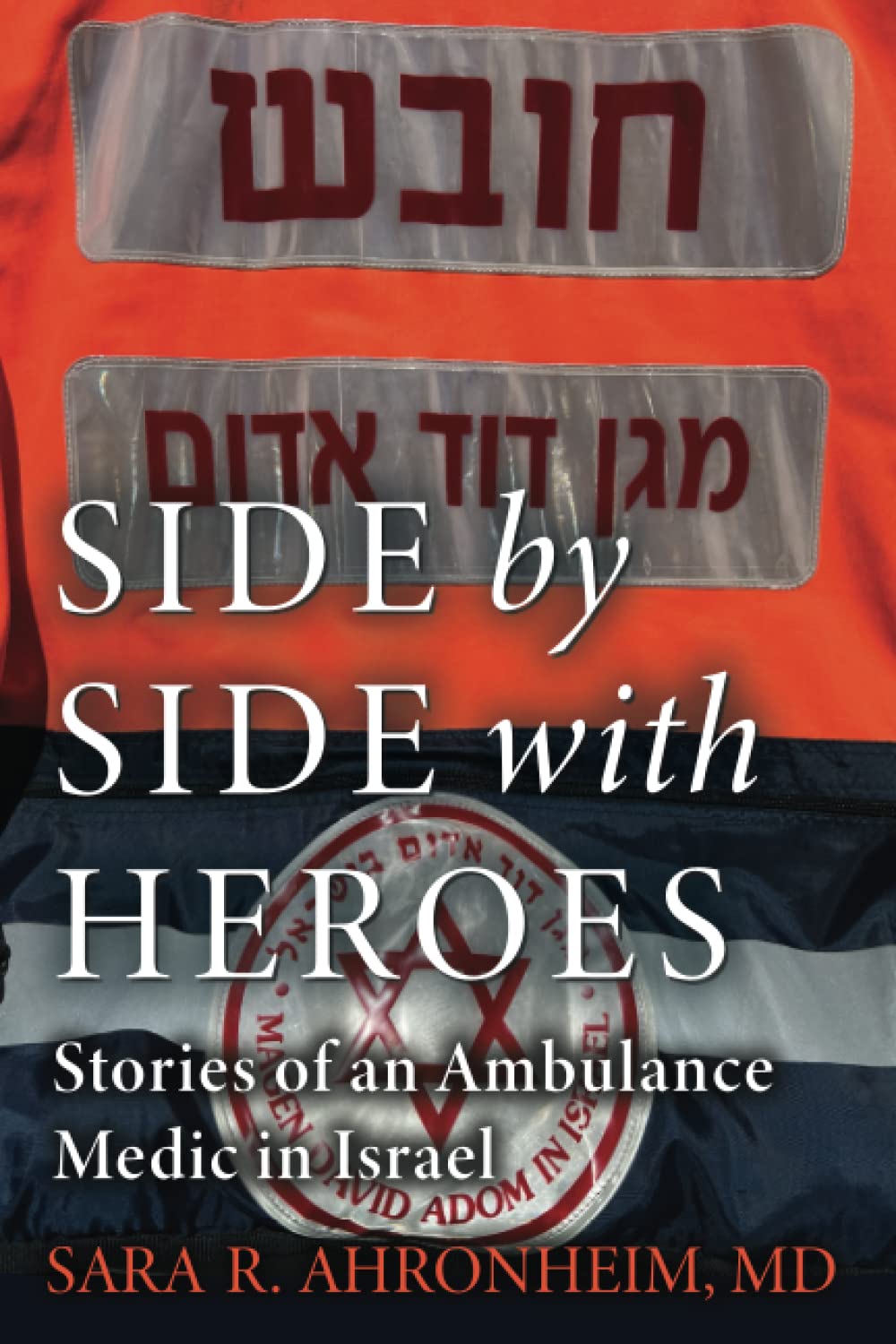 CMDA is proud the help launch an extraordinary book by one of Magen David Adom's Yochai-Porat Overseas Volunteer first-responders. This debut book from Dr. Sara Ahronheim chronicles her daring journey as she follows her cultural roots into the chaos and tragedy of war. Navigating her own personal journey into womanhood and independence while risking her life for others, Dr. Ahronheim finds her life's passion in Emergency Medicine.
CMDA is delighted to partner up with the Cote Saint-Luc Public Library in Montreal for this special event. Dr. Sara Ahronheim, the author of "Side by Side with Heroes", volunteered with Magen David Adom after high school as part of MDA's renowned Volunteer Abroad Program. Today, she continues to pursue her passion for saving lives and practices emergency medicine in Montreal. Dr. Ahronheim will be speaking about her experience with MDA and will be signing copies of her book.
The book launch will take place on Monday, February 13 at 6:30 p.m. Admission is free. For more details and to register, please click on the link below.
EMERGENCY RESPONSE
MDA Paramedics Deliver Baby en Route to Hospital
Dorin Asweed wasn't due to give birth for another few weeks when suddenly, she went into labor. Dorin's husband immediately called MDA to get them to the hospital as fast as possible.
A Mobile Intensive Care Unit (MICU) arrived within minutes. Dorin informed the team that the baby was breech and that she had planned to deliver via caesarean section. While en route, it became clear that the baby was coming too quickly to make it to the hospital. Without hesitation, the team pulled to the side of the road to deliver the baby.
In communication with the hospital's delivery unit from the start, the doctor guided MDA paramedic Tal Tabachnik step-by-step, resulting in a successful and healthy delivery of a baby girl.
When you support MDA, you help ensure that our MICU paramedics have the vehicles, equipment, and training they need to both save lives, and bring new ones into the world.