Calgary Gala 2023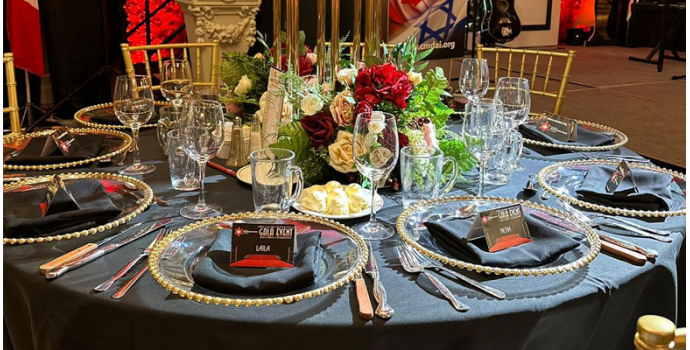 CMDA Calgary Holds Red Carpet Gala
CALGARY May 28, 2023
CMDA's Calgary Chapter continues to make big waves with more than 400 guests in attendance at its 2023 Red Carpet Gala, which took place on Sunday, May 28th.
Guests arrived to the Carriage House Hotel in their chic Red Carpet attire in honour of Israel's 75th birthday. Calgary Chapter Chairman Lenny Shapiro and Chapter Founder Fanny Wedro were both honoured with the "Kol HaKavod Award" for the outstanding achievements and unwavering support of Magen David Adom.
Violinist Steven Klevsky and Olga Sem and Bravo Circus were absolutely amazing. The Baroque Models were unique and Adam Fitzpatrick as Elvis Presley was one-of-a-kind show. Tomer Gonen and Yossi Halabi of MDA's Naval Unit in the Galilee gave an eye-opening presentation of MDA's lifesaving work in the north of Israel.
A special thank you to our Master of Ceremonies Shari Chaskin, and to Rabbi Cantor Leonard Cohen for leading the Israeli and Canadian national anthems.
A special thank you to all the dignitaries who attended the evening: The Honourable Jason Kenney, Calgary-Glenmore MLA, Whitney Issac, Former Fish Creek MLA Richard Gotffried, Calgary Heritage MLA Shovaloy Majumdar, Ward 13 City Councillor Dan McLean, Deputy Chief Chad Tawfik and his lovely wife Kayanne Tawfik, Sergeant Raven Thomas, Staff Sergeant Andy Woodward.
Lastly, we want to thank all the donors, volunteers and staff who made this event possible. Thank you all so much and we hope to see you again next year.